"Oldest rock on the planet"
---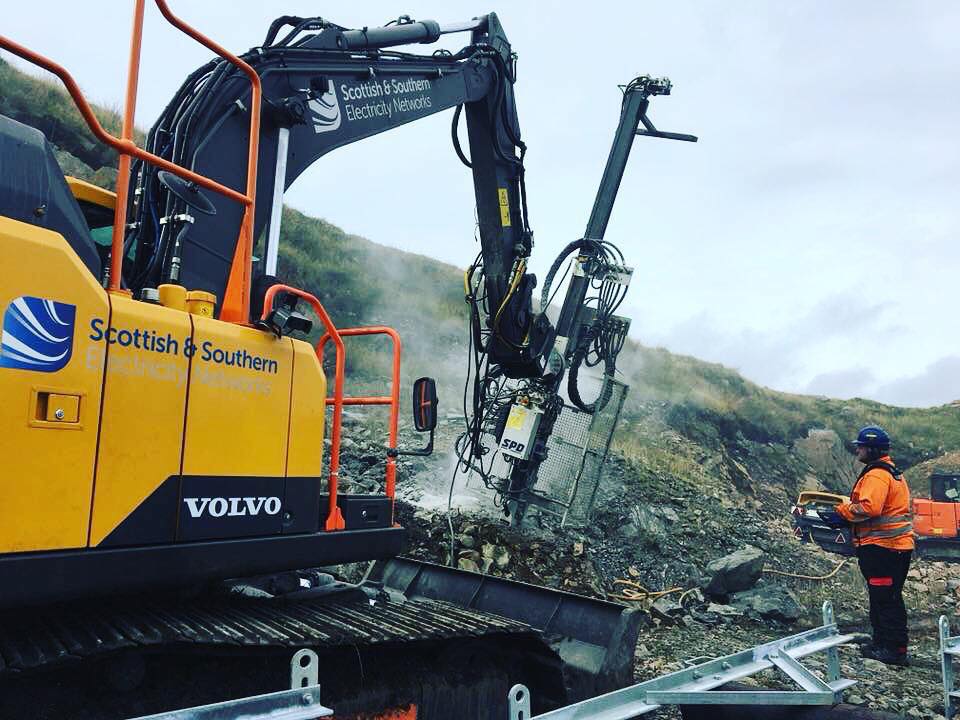 During 2017 Highland Hammer Hire was approached by SSEN to provide a solution to what was anticipated to be some of the hardest rock they'd ever encountered.
The job which SSEN were planning was the Pollachar to Drimore network reinforcement on the Isle of South Uist. This project was to strengthen the security of supply in the event of a fault on the existing line.
Our Challenge:
Our challenge was to provide a solution to speed up the extraction of rock for the placement of poles over the 30km span of the job. An easy task at first glance however explosives were not permitted and any solution had to be capable of travelling across peatland. The machinery had to be transportable by road using an SSEN Unimog and beavertail setup so this posed additional restrictions on the solution.
Solution:
Following a visit to Sweden, HHH founder Callum Mackintosh pitched the solution of "Drill and Break" to SSEN management and their sub-contractor. It took some convincing, however having carried out a similar solution on a rockface in Lochaber Callum was confident that this would work in this application too.
It goes without saying that the pitch went down well and after assisting for many months with risk assessments and method statements we finally got the go ahead to specify and organise the entire package in conjunction with one of SSEN's sub contractors.
We supplied:
SPD MD33F remote control drill mast
Pole manipulator and custom bracket
Tiltrotator package and buckets
Fully automatic quick coupler
Fitted to the excavator specified by us below:
Bespoke factory ordered Volvo EC140E
Twinned Hydraulic Pumps
Biodegradable oil
LED light package
360 Camera system with live view
Commissioning:
HHH prepared the new Volvo EC140 in advance of arrival to site. Once the project was setup we travelled to South Uist with an SPD factory engineer to commission the new setup and train the operatives in the safe and efficient operation of the equipment.
The SPD setup has the ability to be controlled from inside the operators cabin or outside for a better view of production. HHH and SPD stayed on site with the team until everyone was confident in its use then enjoyed some team bonding afterwards at a meal hosted by SSEN.
But we didn't stop there!
The rock found in South Uist is Precambrian Lewisian Gneiss, some of the oldest rock on the planet, between 4600 Billion - 541 Million years old! Highly abraisive and incredibly hard, this rock caused interesting wear on the high quality drill bits supplied by us. Monitoring the drilling remotely via live link we could make adjustments to percussion rates, rotation speeds and down pressure whilst also making other practical recommendations to the ground team.
We made sure that SSEN had a constant supply of consumables available in a variety of diameters for differing tasks. This eliminated an opportunity for downtime and bolstered our commitment to the project.
Callum Mackintosh said "This project has been incredible. I appriciate the opportunity we were given to provide this specialist solution for SSEN and i'm proud of the end result, effectively our solution has played a key role in bringing the cost of this project down to £3.8m. Teamwork at its finest!"
For more info on the project which completed in June 2019 please click here.
---