HHH was commissioned at the beginning of 2019 to supply a Rototilt solution for international rail engineering company Rhomberg Sersa Rail Group.
---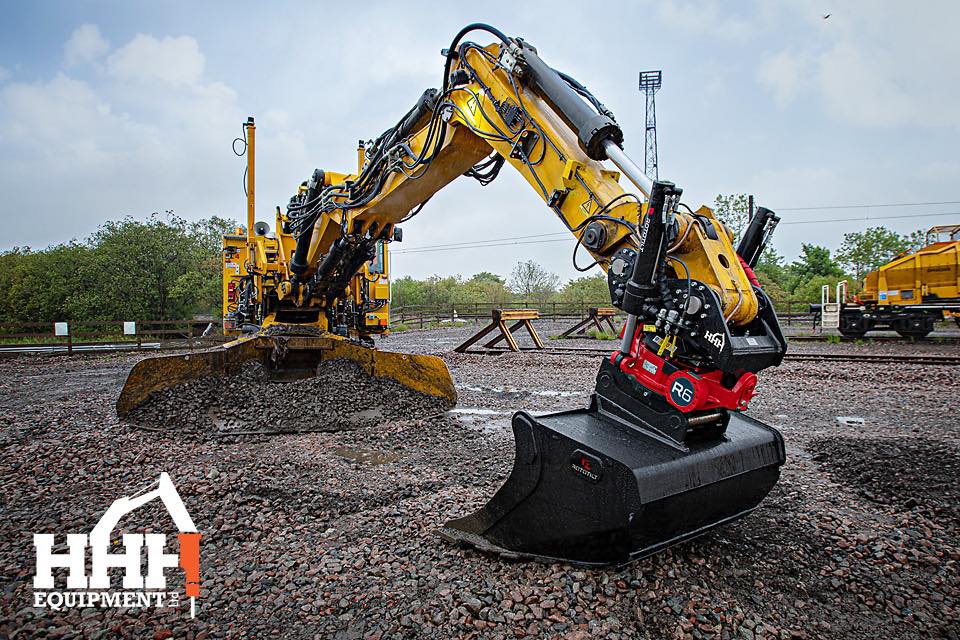 RSRG required a new tiltrotator for its ITC BL4 inline ballast excavator, the first of its type in the UK.
We reviewed the excavator and the task it was required to fulfil. In one of the most customised jobs we have ever undertaken, we supplied a direct mount Rototilt R6 unit with the award-winning Securelock safety system, ICS control system and RPS integration into the machine's Trimble machine guidance system. We had this unit factory built as a special to include an S60 lower coupler where normally its an S70 item.
Not only the unit was custom made, the Rototilt bucket was also adapted in house at HHH to best suit the complex working envelope of the ITC BL4.
HHH Service and local service partners fitted the equipment on site and have revisited the machine several times to assist in getting the machine through the rigorous testing procedures Rhomberg Sersa Rail Group must undertake to get the ITC BL4 Network Rail approved. Following completion and approval of the machine setup, the equipment will be used to replace ballast at various locations on the rail infrastructure across the UK and we will continue to provide support to ensure that the Rototilt is performing at it best.
Keith Manning from Rhomberg Sersa Rail Group said: "Callum and the team met all our needs. They were really professional and helpful and we would happily work with them again."
HHH founder, Callum Mackintosh said: "we're really proud of this project, we received great feedback from the client and we have a lot of learnings that will stand us in good stead for 2020, It's been pleasure to be involved with this project and to work alongside the dedicated and passionate team at Amey Sersa. And we're looking forward to seeing this machine and the full machine group working to the max on its next deployment"
---
Other News
---